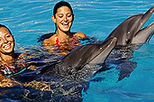 The Signature Dolphin Swim allows you to develop a personal relationship with your dolphin in the smallest group sizes anywhere! Take a journey into the intriguing world of the Pacific Bottlenose Dolphin through amazing face-to-face encounters- touch, feed, play, learn and swim with dolphins.
Nuevo Vallarta Signature Dolphin Swim

Make a lifelong connection with your dolphin.  Swim, touch, feel, and bond while learning about dolphin behavior and habits in a unique way.   The  Signature Dolphin Swim includes an introductory presentation on dolphin characteristics, dolphin training signals, and how to communicate with your dolphin.