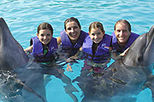 A fantastic chance to enjoy our dolphin interactive programs with your little ones. This encounter is available for parents with children aged 3 years and under. A truly family affair that lets you and your loved ones hug and kiss the dolphins while in the water on a shallow platform.
Nuevo Vallarta Family Dolphin Experience

Looking for children activities in Puerto Vallarta?  The Family Dolphin Experience is perfect for parents with young children.  Kids are safely introduced to the Bottlenose dolphin's anatomy, physiology, natural history and training mixing education with fun with a memorable childhood experience.