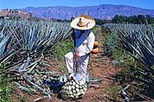 One cannot fully appreciate Mexico without some understanding of tequila's place in its history and culture – see the complete Tequila growing and making process, have lunch at a real Mexican Hacienda and visit a real family tequila distillery!
The popular, yet still "off-the-beaten-path," Tequila Tour will take you north of Puerto Vallarta, passing through majestic mountains and scenic volcanoes. Rincon de Guayabitos is the tour's first stop where tour guests indulge in a traditional Mexican breakfast. After breakfast, the tour continues to the colonial
and picturesque Compostela, a colonial city in the Cactlan Valley, and then the lava fields of the Black Giant, or El Ceboruco Volcano. The Black Giant is an amazing sight- one of only nine active volcanoes in all of Mexico.
Dreamed of seeing the ancient pyramids of Ixtlan del Rio? Mexico's famous round pyramids, these structures were built to honor Ehecatl, the God of Wind, thousands of years ago.
The final stop of the tour includes the Tequila factory, La Cofradia, where guests learn all about the process of making Tequila including the cultivation of the plant known as Agave Azul and the fermentation and distillation processes that result in Tequila.
Reservations required: Tequila Six Pack from Puerto Vallarta