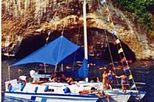 Snorkeling Los Arcos is one of the popular tourist activities and it's not hard to see why! Nature has provided wonderful scenic surroundings for your snorkeling expedition, with arches and caves that have been sculpted by the forge of the ocean for thousands of years!
Love to snorkel? Or always wanted to snorkel? Los Arcos is famous for snorkeling.
Begin your snorkel adventure by departing from Marina Vallarta on a smooth-sailing catamaran where breakfast awaits you. Sail close to the shoreline with panoramic views of the Bay of Banderas, downtown Puerto Vallarta, and crystal blue waters of the Pacific Ocean.
Just 100 meters offshore, you will snorkel in the warm waters of the bay of Los Arcos, famous for the magnificent granite rock "Arches" that spring up from the water. Explore the rare sea foliage, tropical fish and sea life that have made this snorkel location famous in Puerto Vallarta and throughout the world.
After snorkeling, the catamaran continues farther south to beautiful Las Animas Beach, where you can enjoy a relaxing swim and catch some rays while eating lunch on the beach .
The tour includes a continental breakfast, lunch on the beach, open bar, and fishing rods. Reservations and further details: Snorkel Los Arcos departing Puerto Vallarta