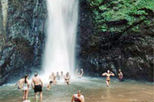 Travel through the Sierra Madre Mountains into the dense, tropical jungle.  Pass through lush  plantations, running rivers and streams, before discovering magnificent waterfalls and natural dipping pools.   The ultimate tour for those seeking to explore off the beaten path-  See a part of Mexico that very few tourists get to see!
Sierra Madre Norte

When they coined the term, "off the beaten path" they were referring to the Sierra Madre Norte Tour from Puerto Vallarta.   This tour includes an off-road journey through hidden villages, mountain streams, and incredible jungle foliage referred to as the Mexican Outback.
A 45 minute hike with a trained guide allows you to explore the jungle first-hand before ultimately reaching the picturesque coastline, where guides prepare a delicious lunch while you relax on the beach.