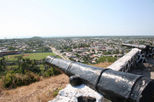 Experience a tour to a 16th century Spanish fort!  Or how about a visit to a crocodile farm by boat?  You will do both plus more on this historic journey to San Blas, from Puerto Vallarta.
San Blas Tour from Puerto Vallarta

Depart from Puerto Vallarta and soon stop for a traditional Mexican breakfast in Rincon de Guayabitos.  Continuing on, pass through lush vegetation surrounding secluded towns, small fishing villages, and scenic farm fields.   An informative, bilingual tour guide will provide background information for each area, and provide numerous opportunities for photo stops.
Upon arriving in San Blas, travelers are taken on a 10 mile boat ride to the Mangroves Swamp to visit a crocodile farm where your tour guide will provide details on the local crocodiles, bird species, and other wildlife in the area.
Afterward, a visit to beautiful San Blas is your next stop.  Take pictures of the unique town, including famous sites such as the old Cathedral and the Spanish Fort of San Basilio- a true tribute to Spain and Mexico's history together.
After a full day of sightseeing, the tour stops at a restaurant in Batanchen Bay for traditional Nayarit fare before heading back to Puerto Vallarta.   The perfect ending to an exciting, enriching vacation tour.