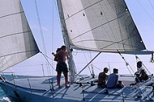 Designed for adventure-seeking travelers who want to make the most out of their Puerto Vallarta vacation, this whale watching tour is an exciting adventure that combines the romance of sailing on a luxury sailboat with an unforgettable day of whale watching.
Spend the day relaxing on board a sailboat while bilingual eco-tour guides explain about the various species of whale that migrate along Puerto Vallarta's coast. Learn about whale migration, their habits and behaviors, before ultimately watching the mammals in their natural habitat. Have your cameras on-hand and ready to catch the whales as they swim with their young, soar out of the water, and provide ample other photo opportunities.
Excursions also schedule a stop in a secluded cove where guests are invited to swim, snorkel, and sunbathe before heading back making this tour perfect for sailors, eco-tourists, and beach-combers.
Reservations Required: Sailing with Whales on Banderas Bay