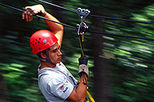 Swing from treetop to treetop through dense tropical foliage in the Puerto Vallarta rainforest. Adventurers and sports enthusiasts find Canopy Tours exhilarating, while others enjoy the photo opportunities and the magnificent views of one of the world's most complex and beautiful ecosystems.
Just forty-five minutes from Puerto Vallarta, in the heart of the tropical forest of the Sierra Madre Mountains, lies a private eco-reserve, a biological paradise where you will discover a stunning profusion of Mexico's tropical flora and fauna. This adventure gives you the opportunity to experience this amazing wilderness from a unique perspective- 90 feet above the forest ground!
Puerto Vallarta Canopy Adventure

See Puerto Vallarta as the tropical paradise it truly is- magnificent jungle vines, trees, wild orchids, and brightly colored parrots ready for their snapshot.
The Canopy Tour departs daily and leaves from Marina Vallarta or Vallarta Adventure Center. Departure times will be verified at least 24 hours beforehand – 8am, 10am, 1pm are the approximate departure times.