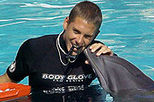 If you find dolphins fascinating, you'll love learning to train dolphins on your next Puerto Vallarta vacation! The Dolphin Trainer for a Day Activity is one of Puerto Vallarta's newest tours and gives travelers the chance to spend an exciting day working beside the dolphin trainers at the dolphin center in Nuevo Vallarta.
Reservations required 48 hours in advance: Dolphin Trainer for a Day in Nuevo Vallarta

The Dolphin Trainer lessons in Vallarta give visitors a chance to be up close and personal with friendly Pacific Bottlenose Dolphins. Guided by a team of professional marine mammal experts, you'll learn feeding and behavioral training techniques while assisting the dolphin trainers during Dolphin Encounter Tours, and Swim with the Dolphins Experience. By the end of the day, you'll have learned the basic skills of caring for and training dolphins as you assist the trainers in every aspect of their work.
Approximately 4.5 hours. Minimum age: 12 years old.
Dolphin Trainer's Uniform is provided, and a Dolphin Trainer Diploma is awarded upon completion. A DVD and digital photograph are your souvenirs, as well as the memories of a once in a lifetime experience.